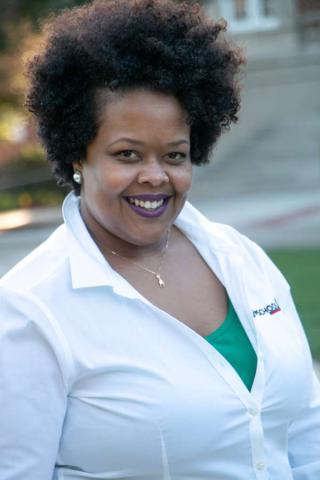 Charity M. Parsons, Ed.S.
Based in Baton Rouge, Louisiana, Charity Moran Parsons is a former high school Project Based Learning (PBL) teacher, New Tech Network School Development Coach, and middle school-alternative programs Instructional Specialist. These experiences coupled with her work as an elementary school Federal Programs Title I Coordinator provides a sustainability & capacity-building focus to Charity's work. Sustainability is a key focus as Charity has been dedicated to education for over 15 years. She believes that PBL is a powerful and transforming instructional strategy that, when leveraged appropriately, dispels opportunity disparities and empowers ALL stakeholders to become lifelong learners. For Charity, PBL espouses all of the principles of a culturally responsive teaching practice!

Charity currently serves on the National Faculty for PBL Works and is the founder of iDoSchool.com, training educators nationally & internationally, meeting a variety of school program development needs. With iDoSchool, Charity's work and research revolve around establishing a safe space for teachers to innovate and develop the skills to decolonize curricula, build culturally responsive learning experiences, and debunk myths around students of color. She is also 1/3 of a powerful trio of women organized as PBL Path, dedicated to the power of place in Place Based Learning. Together with PBL Path, Charity has facilitated place based learning projects at Whitney Plantation – expeditions & experiences crafted for both teacher and student to experience, learn from, and appreciate the place & its history. Service opportunities as adjunct professor and STEM curriculum manager afford Charity a unique perspective for each and every service.

A Gates Millennium Scholar, Charity has earned her Bachelor of Science degree in Biology from Southern University and A&M College; a Master of Arts in Secondary Mathematics Education from Centenary College of Louisiana; and an Educational Specialist certification in Educational Leadership from Louisiana State University-Baton Rouge.
​​​
Specialties
Strategic Program Development
Culturally Responsive Teaching
Decolonizing Curricula & Debunking Myths
Educating & Empowering Black Males
Strategic School-wide Planning
Project Based Learning (PBL)
Literacy, Language & Equity
Services
Consultation / Diagnostic Conversation
1:1 Teacher Planning
1:1 Leader Planning
Online Coaching (Planning Teams)
Keynote Speakers
Customized School-wide Planning
3-Day Workshop
2-Day Workshop
1-Day Workshop
3-Day Site Visit
2-Day Site Visit
1-Day Site Visit
Customized Curriculum Design (Maps, Calendars, Daily Lessons)