Two Huge Ways Critical Pedagogy Can Inspire Your PBL Classroom
Jul 17, 2018
by Charity Parsons, Ed.S.
Originally Published on www.bie.org on April 4, 2018
Critical Pedagogy describes education as a way to transform self and society. Paulo Freire posited this critical theory that takes a problem-posing approach to foster what becomes a critical consciousness within students. In this way, students are encouraged to question their world, take action in their world, and reflect upon their world in order to change it. Dr. J. Luke Wood of San Diego State University encourages educators to view their classrooms, offices, schoolyards, and campuses as sites for civil resistance; this is a beautiful byproduct of Critical Pedagogy. bell hooks affirms this: "The classroom remains the most radical space of possibility."
No time like the present demands that we take a look at how we can leverage our PBL classrooms as havens for not only critical thinking, but critical pedagogy. Richard Shaull, in the preface of Paulo Freire's The Pedagogy of the Oppressed very eloquently states: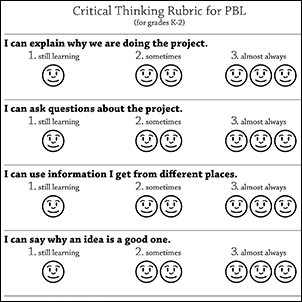 There is no neutral education process. Education either functions as an instrument which is used to facilitate the integration of generations into the logic of the present system and bring about conformity to it, or it becomes the 'practice of freedom', the means by which men and women deal critically with reality and discover how to participate in the transformation of their world.
Shaull's consideration here around the necessity for Critical Pedagogy gives us two huge, actionable steps towards including Critical Pedagogy in our PBL classrooms. Let's take a closer look:
1. Deal critically with reality
Students need to be strategically scaffolded to think critically to help them effectively explore and define all of the key aspects and issues of the core topic at hand.
From the BIE website, we can use the rubrics for critical thinking to help structure our expectations around critical thinking. The rubrics help us guide students in grades K-12 in being effective critical thinkers in a project, and can be used to assess their performance.
Let's start by examining what critical thinking can consist of in the lower grade levels, as shown on the K-2 rubric above. This helps us understand the foundational skills students should be able to demonstrate when it comes to critical thinking within their projects:
Ask questions
Use information from multiple sources
Evaluate the quality of an idea
Explain their ideas using facts and details
Use feedback and reflection to improve work
2. Discover how to participate in the transformation of their world
How are the learning experiences and the products that students create in projects helping them transform their world? Here are some final products to consider when we think of ways students can do this:
Debates on topics that can extend themselves into community panels and town hall sessions
Letters to legislators, council members
Public awareness campaigns
Public service announcements
Documentaries
Petitions
Social media campaigns (think: hashtag analytics, trends, etc.)
Demonstrations
Voting campaigns and lobbies
As evidenced in recent organizing, protests, and demonstrations surrounding racial injustice (#Black Lives Matter), immigration reform (#DreamActNow), and gun control measures (#MarchForOurLives), students are meaningfully critiquing our society and pressing for transformative change. This kind of social critique, as a result of students critically thinking about the world around them, is necessary if we want to change an education system that perpetuates and fosters repetition of inequality.